The Gillian Anderson FAQ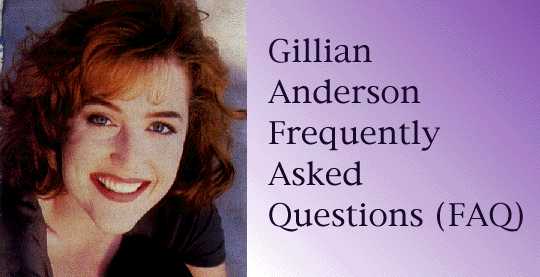 Edition 2.0.3
3/30/97
Edited and updated by Jack Witzig.
Written by Alan Sawyer and the GATB.
Quick note: I got tired of the GAFAQ being three years out-of-date (at least every version I've seen on the net), so I decided to update it myself. This can be freely distributed this around the net--as a matter of fact, I'd prefer it. Please keep the credits intact, though. Thanks!
1. Who is Gillian Anderson?
Gillian Anderson is an actress primarily known for playing Special Agent Dana Scully on the Fox Network's The X-Files. In the United States, the show was originally on Friday nights. However, in the fall of 1996, it was moved to Sunday night.
2. How is Gillian pronounced?
Jill'-ee-un.
3. Where does she come from?
Gillian was born on August 9, 1968 in Chicago, Illinois, to Edward and Rosemary Anderson, and is one of three children. She lived in Puerto Rico, and then in London, so her father could attend a film school there (her family still owns a flat there). At age eleven she moved to Grand Rapids, Michigan, where she attended elementary and then high school.
She then moved to Chicago where she went to college. Once she gained her BFA, she moved to New York, New York. where she made several theater performances and then to Los Angeles in about '91/'92.
Upon gaining the role of Dana Scully, Gillian then relocated to Vancouver, British Columbia, Canada, where she now resides with her daughter, Piper.
4. What is her educational background?
Gillian attended Fountain Elementary, then City High in Grand Rapids, Michigan. After graduating in 1986 she moved to Chicago and attended the Goodman Theater School at DePaul University (a major theater conservatory), in Chicago, IL where she obtained her Bachelor of Fine Arts degree. While attending DePaul, she also studied at the summer program at the National Theater of Great Britain at Cornell University in Ithaca, NY.
5. Vital Statistics?
Gillian is 5'2", smallish (yet shapely) build, auburn hair, blue eyes (although they appear to change color somewhat), cute nose, fair complexion (slightly freckled), perfect lips, yatta yatta yatta. The GAML's best guess at a shoe size was 7 USA. Personally, I have no idea.
6. Is Gillian married?
Yes, after an engagement that lasted "shorter than a month but longer then a week." Her husband is Clyde Klotz, a former X-Files crewmember. They were married on New Years Day 1994 in Hawaii. Says Gillian, "We kept it very, very small. In fact, it was just the two of us and a Buddhist priest on the 17th hole of this golf course in Hawaii"
Unfortunately (or not, who am I to say), Ms. Anderson and Mr. Klotz separated in October of 1996. This news was made public on January 13, 1997 in a British tabloid, and was confirmed by Ms. Anderson's publicist the next day. Since then, GA has been the subject of many tabloid rumors (including a Hard Copy piece in which she was called a "sexpot") about a supposed relationship with Adrian Hughes, a guest on the fourth season episode "Home."
7. Was Gillian pregnant?
She was, yes. Gillian was due on the September 13,1994 and gave birth on twenty-fifth. The last episode in which she appeared pregnant was episode six of Season two ("Ascension"). She missed the seventh episode (Scully was abducted by entites basically still unknown), and returned to work a mere ten days later.
8. What is her child named?
Gillian gave birth by Cesarean on the 09/25/94, to a baby girl, 8 lb. 10 oz, named Piper Maru Anderson.
9. What about her family?
Her parents are Edward and Rosemary Anderson, both in their early to mid-fifties. Edward Anderson runs a movie postproduction company and Rosemary is a computer analyst (People, October 9, 1995). Gillian is the oldest of three children. Her younger siblings are brother Aaron and sister Zoë.
Aaron Anderson has Neurofibromatosis, a diease Rosemary and Gillian are dedicated to stopping.
From the NF, Inc. homepage:
"Neurofibromatosis (NF) is a genetic disorder of the nervous system that causes tumors to form
on the nerves anywhere in the body at any time. NF is a progressive disorder that affects all
races and both sexes equally. The effects of this disorder can be severe disfigurement, cancer,
hearing loss, visionimpairment, epilepsy, bone deformities, and learning dis-abilities. NF is
unpredictable and has varying manifestations and degrees of severity. NF is an autosomal
dominant genetic condition in which only 50% of those affected have a prior family history of NF.
Currently, NF has no treatment other than thesurgical removal of tumors which may some times
grow back."
For more information, and to possibly make a donation, please go to the NF, Inc. homepage.
10. How did she get into acting? How did she get the role of Dana Scully?
After initially wanting to be a marine biologist, at about age seventeen, she was in "a couple of auditions" in the Grand Rapids Community Theater, where she was "cast in a couple of things," and from then it was as if she "had never thought about marine biology."
While studying for her Bachelor of Fine Arts at DePaul University, Gillian spent some time in the National Theater of Great Britain. After receiving her degree, she moved to New York and embarked on a serious career in theater--including an off-Broadway production of Alan Ayckbourne's "Absent Friends," for which she won a 1991 Theater World Award. She also performed in "The Philanthropist" at the Long Wharf Theater in New Haven.
Gillian then moved to Los Angeles and spent a year auditioning for various things, during which time she appeared in the cable movie The Turning and did the audiocassette version of Ann Rice's Exit to Eden.
Although she had once vowed she would "never do TV,"and seemed set on a career in film or theater, being out of work for a year or so changed her mind. She had a role in episode eight of the long-since-cancelled Fox show Class of '96 and then was impressed enough by the role of Dana Scully that she auditioned for the part.
"The chance to play FBI Special Agent Dana Scully was the series's key attraction, I was reading something that for the first time in a long time involved a strong, independent intelligent woman as a lead character." -GA
The auditioning went well, and X-Files creator Chris Carter decided to cast Gillian in the role. The network (Fox) disagreed, wanting to cast someone with more TV experience (who looked, of course, more like a "bimbo"). Fox flew in more actresses from New York, but Carter stood his ground, and they cast Gillian as Special Agent Dana Scully. Gillian, who was also somewhat surprised at being cast, said "I was convinced they were looking for someone leggier, and with a bigger chest." (Thank God for Chris Carter and small miracles . . . )
Gillian enjoys working on the show, even if it was and is stressful. She sees the recognition she has been getting as a great step which will open many doors for her, as her goal is to do some more theater as well as feature and independent films eventually.
Since gaining the role of Dana Scully, GA has won several acting awards, including a Screen Actor's Guild Award and Golden Globe Award for Best Actress in a Drama Series.
11. What is Gillian's view on the phenomena covered on the show?
A quote from GA can sum it up better than I could . . .
"The more I get comfortable with the character, the more she's becoming like me in some of her mannerisms. I'm not that much of a skeptic. I do believe in UFOs, I do believe in certain paranormal phenomena, like ESP and psychokinesis and all that. I've always been fascinated with it and I think, on a certain level, I've just known or assumed it to be reality. In that respect we're very different. I think that I have a tendency to get as single-minded and obsessed with my work as Dana does, but in a different way. She's a medical doctor and an FBI agent and I'm an actress."
Also, Gillian has said that when she was in Hawaii getting married she spent a lot of time watching the sky looking for "them," and that she is "a full fledged believer" in addition to being "one of the least straight-laced people you will ever meet."
So, yes, it's safe to say Gillian's view on such phenomenon is that anything is possible.
12. What is Gillian Anderson like?
From all reports, she is a very intelligent, hardworking, and charming woman with an easygoing and bubbly personality (in other words, a heartbreaker to us guys) who genuinely enjoys her work. Even though she finds the schedule of working in a weekly show to be very stressful, you wouldn't guess it from her consistently exemplary performances. She is also very open and honest and possesses a quirky and charming sense of humor.
Glen Morgan has referred to her as "very smart" and Chris Carter is also impressed by how hardworking she is (she was at work each day up until two days before her daughter's birth).
13. Now that's she's famous the world around, what does she think of the fame?
She's quite flabbergasted by the whole thing. Her fame pretty much started on the Internet, but it really spread from there. She does know the GATB, GAEB, and other on-line groups exist. This is what she once said about the GATB . . .
(re: GATB) "Anderson is surprised, though she says it's flattering. 'It's something I certainly didn't expect,' she says, 'Especially with Scully. She's independent and she's passionate about her work. The character is not just a little bit of those attributes, she's very much so. I find it terrific that some people should find that stimulating.'" (Julianne Lee, Starlog Platinum November 1994?)
"And while the actors aren't quite so computer literate, they are aware of the attention. 'I've been told that on one of the computer services there's something called the Gillian Anderson Testosterone Brigade,' says Anderson with a laugh. 'That just tickles me.'" (Steve Pond, Sacramento Bee , October 9, 1994)
14. In which magazines has she appeared?
Almost too many to count.
Arena, Cinefantastique, Cinescape, Entertainment Weekly, Esquire, Flare, For Him Magazine, Lifestyles, McCall's, People, Rolling Stone (several editions), Starburst, Starlog, Starlog Explorer, Tele7jour, TV Guide, TV Week, Us, "The X-Files" Magazine, "The X-Files" and Other Eerie TV, and probably more. Submissions are welcome.
I might make this list more specific, but this is it for now.
Which magazines have given her cover stories?
Cinescape, Entertainment Weekly, Esquire, Flare, For Him Magazine (twice), Rolling Stone, Starlog Explorer, Tele7Jour, and probably more. Again, submissions are welcome.
15. What online groups are devoted to her?
The popularity of the GATB inspired at least nineteen other groups devoted to Gillian Anderson (or, rarely, Scully).
Church of the Immaculate Gillian (CIG), Church Of Saint Gillian (COSG), Devout Gillian Anderson Worshippers (DGAW), Genuine Admirers of Gillian Anderson (GAGA), Gillian Anderson British Association (GABA), Gillian Anderson Disciples Guild (GADG), Gillian Anderson E-mail Pal List (GA Pal), Gillian Anderson Estrogen Brigade (GAEB), Gillian Anderson Lovers' Association (GALA), Gillian Anderson Mailing List (GAML), Gillian Anderson NeuroTransmitter Association (GANTA), Gillian Anderson Testosterone Brigade (GATB), Gillian Anderson Web Site (GAWS), Gillian Anderson Zen Club (GAZC), Gillian Leigh Anderson Site (GLAS), Irish Gillian Anderson Association (IGAA), Order of the Blessed Saint Scully the Enigmatic (OBSSE), Royal Canadian Gillian Anderson Society (RCGAS), and the Society for the Prevention of Cruelty to Gillian Anderson (SPCGA), X-Party.
There are also two Undernet chat channels devoted to her, #GillianAnderson and #GABA. If there are others on DalNet or EfNet, please write me.
16. What is Gillian's phone number/Email/Address etc?
Her phone number is unknown, which is just as well. Gillian isn't publicly on any computer service, but she has been known to be on the net from time to time.
As far as a contact address for fan mail, gifts and such:
Gillian Anderson
c/o The X-Files Production Office
Building 10
110-555 Brooks Bank Avenue,
North Vancouver, BC,
V7J 3S5, Canada.
17. What are Gillian's other performances?
18. Where can I find these?
19. Where can I find photographs of Gillian?
Hollywood Book and Poster Co. 213/465-8764
---
Edition 2.0.3 -- March 30, 1997
Edition 2.0.2 -- February 17, 1997
Edition 2.0.1 -- February 10, 1997
Edition 2.0 -- February 6, 1997
Edited and updated by Jack Witzig.
Originally written by Alan Sawyer and the GATB.
Thanks for additions and corrections go to Andrew Ferrier, Gaby, and Jasmine.